Location:
Deb's House, Harrisville NH
For more information about this show please call 603-827-2905
or Email:
http://pfmsconcerts.org/deb/debs-chesham-house-concerts
Join us for two very special events with one of Monadnock Regions favorite folk singers as he reads from his recently published book about his life on the road as a musician; A story that includes a chapter that will bring back memories for many of us of the legendary Folkway.
Garnet Rogers
The Toadstool Bookshop in Peterborough NH
A book reading from "Night Drive."
Wednesday, November 30
5pm to 6pm
And then, join us at Deb's House Concerts
in Chesham for a pot luck dinner and concert.
Pot luck 6pm
Concert 7pm
Tickets: $20 (Suggested)
"So, here it is folks.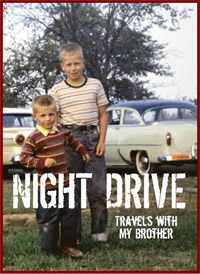 Stories about how Stan and I grew up together, discovered music together, and learned to play in a band and travel together. How the songs got written and recorded. What life was like on the road before there was an independent music scene.
And nearly every stupid, inexplicable and bizarre thing that could happen to a pair of young idiots who were naive enough to think they could play folk music for a living back in the mid- 70's and early 80's.
The bar fights and the bike gangs, The police chases and the arrests. And a thousand gigs in every corner of North America. It's all here. At least most of it..."