Location:
Deb's House, Harrisville NH
He's Back and you better sign up early. Andrew Duhon played at my house last year, sold out fast and had a wait list. This most likely will be the last time he plays in my living room. Next time, a bigger venue for sure.
 "Another world-class voice is heard from Louisiana, another soulful, mesmerizing singer who writes emotional songs with impact and heart. Andrew Duhon is a troubadour for the next generation, a story-teller for his generation. Measured in the blues with the gift of narrative, Andrew's songs will not only make you think, they will make you sing along, days later. This a young artist to watch, and to hear, as soon as you can find a way. "John Snyder, ArtistHouseMusic.com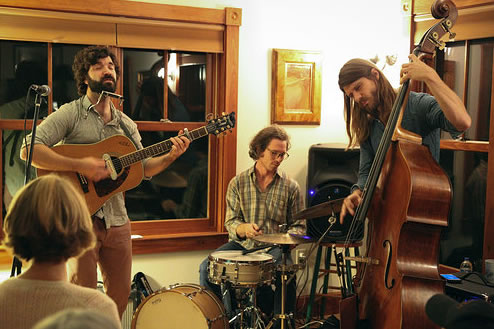 Credit Ryan Miner at beantownphoto.com

Andrew Duhon is a songwriter from New Orleans, a teller of stories with an undeniable voice, weighted and soulful.  Duhon has released 3 recordings, the latest of which, 'The Moorings', was nominated for a Grammy in 2014 for 'Best Engineered Album'.  He has toured solo for much of his career and that troubadour element is certainly present, an usher of modern day folklore.  His latest group, The Andrew Duhon Trio brings a new musicality to the tunes with upright bassist, Myles Weeks and drummer, Maxwell  Zemanovic.  Since recording 'The Moorings' together as their first project, the Trio has been crossing the American landscape, touring and creating together, the thoughtful colors of the trio breathing a new musicality and direction into Duhon's songwriting traditions.
So much more at more at http://andrewduhon.com/           
Listen to Andrew at http://andrewduhon.com/videos/
Video: Side Step Your Grave at  http://andrewduhon.com/
For more information about this show please call 603-827-2905
or Email: