"Vance Gilbert is a virtuoso who is able to make great songs classic. His concerts combine a celebration of song with a large helping of merriment."
BIO
"If Joni Mitchell and Richie Havens had a love child, with Rodney Dangerfield as the midwife, the results might have been something close to the great Vance Gilbert." As the above quote from Richmond magazine suggests, Vance Gilbert defies stereotypes. It's little wonder then that he also exceeds expectations. In this case, those two qualities go hand in hand. "I'm black, I sing, I play an acoustic guitar, and I don't play the blues," Gilbert insists. That may be a broad statement, but it rings with truth.
What he does do is make memorable music, as evidenced by the 13 albums he's released so far, as well as the mark he's made on the folk and acoustic music scenes in general. Over the course of a prolific career that extends back to the early '90s, he's recorded with his good friend Ellis Paul and shared stages worldwide with Aretha Franklin, Shawn Colvin, Arlo Guthrie, the Milk Carton Kids, George Carlin (150+ shows), Anita Baker, the Subdudes, Paul Reiser and any number of others.
He's also made a prominent presence at some of the world's most prestigious gatherings, among them the Newport, Winnipeg, Rocky Mountain, Calgary, Ottawa, and Falcon Ridge folk festivals, the Kate Wolf Music Festival, and Australia's Woodford Folk Festival and Mullum Music Festival. "There was also that one nude festival in Maryland," Gilbert recalls. "I don't recall the name of that one, but I have to admit that the name wasn't the first thing I would remember."
Naturally, Gilbert can be forgiven for that minor oversight, given the amount of praise he's received from the pundits. His remarkable rapport with his audiences and his free spirited performances inspired one critic to hail him as "a folkie trapped in a vaudevillian body," with "a voice that could have been on the opera stage, a wit that could have been on a comedy stage and a songwriting talent that's thrust him on the folk stage for decades."
Continue reading at https://vancegilbert.com/bio/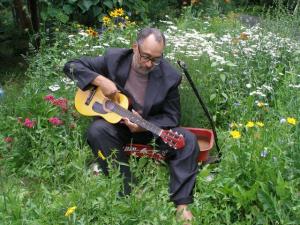 TICKETS

Online sales are Closed.
Tickets will be available at the door for $30 with cash or checks only. 

There are no refunds or exchanges for purchased tickets.